Customer Reviews
Write a Review
Ask a Question
09/07/2020
William F.
United States
Amazing quality
It was amazing feels good to wear and looks sick I ordered a size too big on accident and I'm happy cause I want to wear this thing out as long as possible can't wait for the next Jersey designs and it would be even cooler if they added something like a number to the back like 6000 or a big picture of the beast logo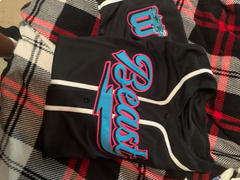 09/07/2020
Greta H.
United States
I love this jersey!
This jersey looks amazing, it's really good quality, and it's worth the price
09/07/2020
Jamie D.
United States
Awesome Jersey
Missed out on getting the first jersey..this one is just as nice!
09/06/2020
Douglas F.
United States
Baseball Jersey is HQ stuff
Great quality shirt! But I ordered the wrong size :-( I guess I'm not as big as I thought I was...
09/03/2020
Nataly L.
United States
When the Jersey Rocks
I don't go out much these days, but when I do, I go to Walmart. Not the most exciting place, but hey, I make it a trip worth my time. Wore this untamed beast for the first time with white pants and a pair of gray tennis shoes. It was kind of long on me, but I unbuttoned the bottom and twisted it. Did not make it a crop top, cause I'm not super confident in showing my belly, but I made it work. The best outfit I could have worn that day. I love the color. People at Walmart were, may I say, impressed. I'm thinking of wearing this same outfit for my upcoming birthday as I hang out with the girls. Anyway, I want to thank whomever came up with the design and the overall color scheme of the jersey. Truly happy with my purchase and honored to support Mr. Beast.