Customer Reviews
Write a Review
Ask a Question
09/15/2020
Alex T.
United States
09/11/2020
Helen B.
United States
Making a difference
Hello, Mr. Beast Official! Thank you for the phenomenal shirt!! Such a great design, and the color is dope too! I was born in the year of the tiger, so this shirt is extra meaningful to me in that way. ☺️ This is by far my most favorite apparel created by your team! I am honored to wear it, to remind me to be more selfless and to be less materialistic. My review is more of an inspiration I would like to offer up to you guys. I thought it could be cool to call on your Beast army and fans, to substantially making a difference, by commissioning your fans to actually do some sort of projec while wearing the shirts you sell! Since this particular short says "Make a difference", maybe to something more specific, like the Beast army doing cleaning projects around towns while wearing a shirt to sponsor that, and through your fans purchases of that shirt, they can record themselves doing that project and all post on youtube! It will be your Beast army being inspired by one another's videos of doing good, and you guys could get to know your community more too. Mr. Beast fans could even become a tighter community. :) Good idea? Bad idea? Just a proposal from a college student up in Berkeley, who is really grateful to know you guys because of technology which allowed me to stumble upon your videos.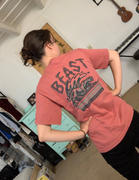 09/10/2020
Jessica G.
United States
Love it
Love the colors and it is super comfy
09/08/2020
Sami S.
United States
Even better than advertised!
The shirt was an even better fit than the model advertised, and the design is exactly proportionate size wise and color wise to the image given. Also, the shirt looks great if you roll up the sleeves a bit (;
09/08/2020
Laura H.
Australia
Stoked for this shirt!
I've wanted to order from Mr Beast for so long but haven't been able to afford it but I finally had the opportunity to and I'm so stoked! This shirt is amazing and I'd be lying if I said I didn't wear it much. I'm from Australia yet postage didn't take very long at all which is awesome. Definitely gonna stock up on some more merch!